AVAILABLE NOW
in the US, CANADA, and the UK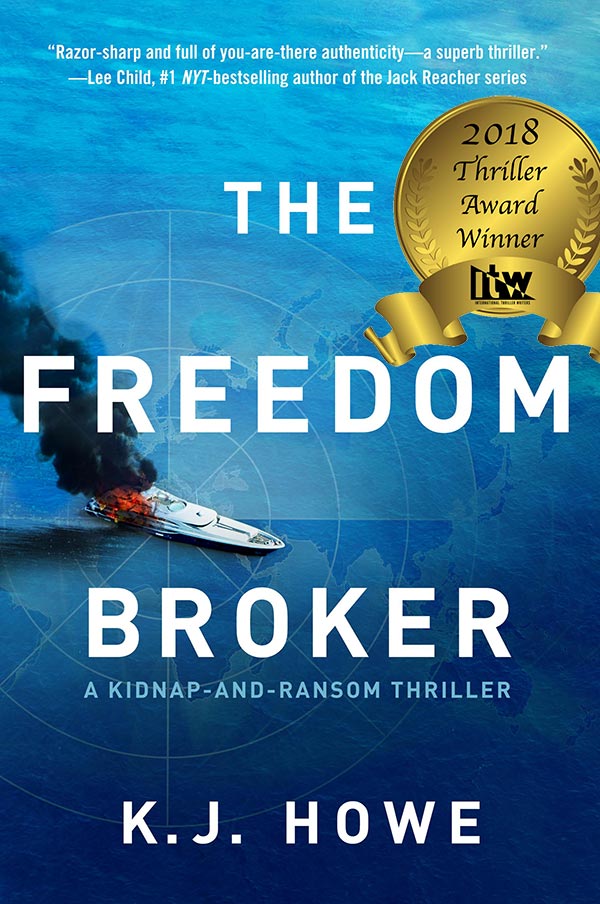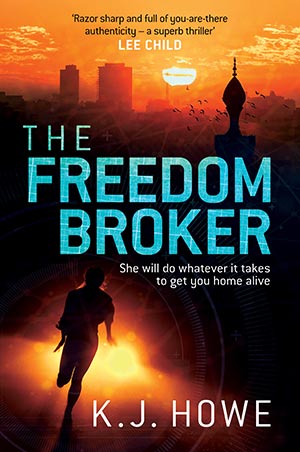 There are 25 elite professionals who travel undercover to the deadliest spots in the world to bring hostages home safely by any means necessary. Only one of those 25 elite response consultants is a woman. She brings everything a man does to the job as well as her intuition. She is the inspiration behind professional kidnap negotiator Thea Paris. ( read more... )
Read sample chapter
AVAILABLE IN 2018
IN the US, CANADA, and the UK
Thea Paris is shepherding two African orphans from Nairobi to their new adoptive home in London when the plane they are on is hijacked. The CIA, the Vatican, the Sicilian mob, and a secret stay-behind army from the Second World War makes this SKYJACK much more than a flight gone wrong.
Praise for THE FREEDOM BROKER
"THE FREEDOM BROKER is gritty and hard-charging; Thea Paris an unforgettable heroine." #1 New York Times bestselling author Grant Blackwood

"Non-stop suspense, commanding attention from the start and never letting go…a must for thriller fans." Booklist, Starred Review
"She's tough. She's smart. She's diabetic. The best scene involves bungee jumping over the Zambezi River. It's worth the price of the book. A spectacular start to what promises to be a great Thea Paris series." Kirkus, Starred Review
"Razor sharp and full of you-are-there authenticity—a superb thriller." #1 NYT Bestseller Lee Child
"THE FREEDOM BROKER combines terrific thriller writing and fascinating research about hostage rescues. This is fact and fiction at its best." #1 NYT Bestseller James Patterson
"THE FREEDOM BROKER has great 'BONES': engaging characters, nimble pacing, and crackling action." NYT Bestseller Kathy Reichs
"KJ Howe tells a spellbinding tale, her descriptions so vivid you can smell every heart pounding second of her action, and she writes with a deeply human voice." Peter James, #1 International Bestseller
"Unparalleled storytelling by KJ Howe filled with excitement that never stops. THE FREEDOM BROKER is a plot loaded with surprises and intrigue. Her characters are memorable and realistic. She has a great talent for the description of landscapes, action, and an unerring detail for stealth from the beginning to the climatic end. I wish I could write as well." Clive Cussler, #1 NYT Bestseller
"KJ Howe's debut novel is a high stakes geo-political thriller that is truly a page turner. THE FREEDOM BROKER explores and illuminates the exotic world of elite Delta Force-type professionals who make a dangerous and deadly living rescuing kidnap victims all over the world. And we are along for the ride of our lives. Incredibly well-researched and expertly written, this is a behind-the-scenes story of how some hostage victims come home safely and why some do not." Nelson DeMille, #1 NYT Bestseller
"What a crackling debut! International kidnap rescue specialist Thea Paris is a beguiling hero caught in the case of her life, and KJ Howe writes about her with knowledge and precision. THE FREEDOM BROKER explodes with high-level excitement!" Scott Turow, #1 NYT Bestseller
"With an alpha female heroine and a plot that's smart, detailed, and highly engaging, THE FREEDOM BROKER introduces a new name to the thriller genre. KJ Howe. It's a fantastic debut, top notch entertainment, a pulse-pounding treat for anyone who loves action and adventure." Steve Berry, NYT Bestseller
"An adrenaline rush! Move over Jason Bourne, action has a new name as international kidnapping expert Thea Paris pulls out all the stops to rescue her own father in this clever and gritty debut." Lisa Gardner, #1 NYT Bestseller
"THE FREEDOM BROKER is gritty and hard-charging; Thea Paris an unforgettable heroine." Grant Blackwood, #1 NYT Bestseller
"Edgy, exciting, intense! Don't miss this fabulous and well-written debut!" Brenda Novak, NYT & USA Bestseller
"KJ Howe is a master at weaving together action and suspense. Her debut THE FREEDOM BROKER is an engaging, fast-moving, spellbinding international intrigue that will leave you breathless. In Thea Paris, Howe has created a smart, complex yet kick-ass character that you'll want to follow and root for." Simon Gervais, former RCMP counterterrorism agent and international bestselling author of THE THIN BLACK LINE
"A high-octane debut thriller from KJ Howe. Kidnap negotiator Thea Paris is a heroine with brains, martial skills, and true character, whose own dark and deep family history drives her on as she travels the world bringing kidnapped victims home to their loved ones. Here's hoping Paris returns soon for another outing!" Mark Greaney #1 New York Times Bestselling Author of TOM CLANCY True Faith and Allegiance
"The pulse-pounding excitement never ends in this remarkable debut novel, The Freedom Broker, by KJ Howe. From Africa's violent backcountry to cosmopolitan Athens and the corridors of power in Washington D.C., Howe takes the reader on the thriller ride of a lifetime. All of kidnap negotiator Thea Paris's skills are tested when she has to save a billionaire who is also someone she loves. Memorable characters, muscular prose, and a world atlas of fascinating insider details make this a can't-put-down read. I loved it!" Gayle Lynds, New York Times bestselling author of The Assassins
"THE FREEDOM BROKER is an adrenaline-fueled, non-stop thrill ride. From the pulse pounding first pages, through the shocking conclusion, Howe never lets up on the suspense, the twists, and the action. Hostage negotiator Thea Paris is my favorite kind of heroine -- fierce, whip-smart, and very human. We'll all be waiting anxiously for the next riveting chapter in her story." NYT Bestseller Lisa Unger
"Breathless action, great characters and convincing details make Howe's debut a surefire rocket to the top of the lists." NYT Bestseller Linwood Barclay
THE FREEDOM BROKER delivers big time with a compelling heroine, cracker jack action, and plot that grabs and holds to the last page. NYT Bestseller John Lescroart
"KJ Howe hits the ground at a dead run with her new heroine—smart, tough, and extremely driven kidnap & ransom expert, Thea Paris. It's clear Howe has done her research—on locations, the intricacies of kidnap negotiations, and the nitty-gritty realities of taking the fight to the bad guys. Expertly plotted, THE FREEDOM BROKER at once satisfies and leaves us impatient for the next one." NYT Bestseller Marc Cameron
"Smart, fast, and vivid, THE FREEDOM BROKER pitches brother against sister in a global power play that turns to war. Unique settings and expertly told, KJ Howe knows her stuff." NYT Bestseller Taylor Stevens
"THE FREEDOM BROKER is a blisteringly original, superbly crafted thriller that promises to be one of the major debuts of 2017. KJ Howe's gut-wrenching foray into the world of hostage negotiation turned upside down propels her straight into the league of Linda Fairstein, Tess Gerritsen, Lisa Scottoline, and Karin Slaughter, thanks to a tale framed by an emotional complexity and structural elegance both rare for the genre. As riveting as it is bracing, this is reading entertainment at its absolute best." Jon Land, USA Today bestselling author
KJ Howe's debut novel THE FREEDOM BROKER is a thriller where action and emotion are separated by a razor sharp line ready to wound both friend and foe. Each character's past is like a barrel of gunpowder set to explode with the flame of revelation. Even her heroine—ass-kicking contract negotiator Thea Paris—must face the sordid truth entwined in her family to discover who kidnapped her father, and why. Leonardo Wild, author of THE GALPAGOS AGENDA
If you're looking for some helpful writing tips, KJ contributed an article on pacing to this award-winning how-to write book:
MANY GENRES, ONE CRAFT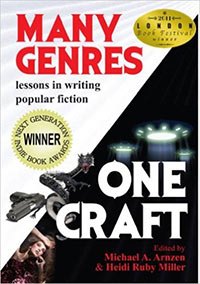 Award-winning authors Michael A. Arnzen and Heidi Ruby Miller gather the voices of today's top genre writers and writing instructors alongside their published students. Many Genres, One Craft fosters the writing process in a way that focuses almost exclusively on writing the novel. Using a compilation of instructional articles penned by well-known authors affiliated with Seton Hill University's acclaimed MFA program in Writing Popular Fiction, the book emphasizes how to write genre novels and commercially appealing fiction. The articles are modeled after actual learning modules that have successfully taught students in the program how to reach a wider audience for over a decade.
Award-winning and best-selling contributors from a spectrum of genres and literary careers offer their sage advice, including David Morrell, Tess Gerritsen, Victoria Thompson, Nancy Kress, Shelley Bates, Nicole Peeler, Maria V. Snyder, Jason Jack Miller, Thomas Monteleone, Susan Mallery, and over fifty other published authors, teachers, and alumni, as well as special guest agents and editors who have visited the program. Divided into three parts Craft, Genre, and The Writer's Life the book provides advice on everything from point-of-view to writing media tie-in novels to marketing romance, all from writers who have actually done it.